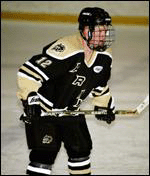 Bickley appeared in each of the team's 31 games last year.


---
Key Statistics: Bickley failed to score a goal last year, but he was one of only three Black Knights to play in all 31 of the team's games. He registered six assists. As a freshman, Bickley tallied a goal and eight helpers. For a defenseman, he rarely gets whistled for penalties. He went to the box just six times last season.
What He Does: At 5-feet-9, 180 pounds, Bickley doesn't have great size on the blue line, so he relies on his hockey sense to be effective. He calls it his "mental edge." He'll study the opposing team's top offensive players, learn what they like to do in certain situations, and then try to mimic them from a defensive standpoint. Bickley's offensive contributions are limited, save for being counted on to bring the puck up during breakouts.
The Bigger Picture: Bickley is a product of Shattuck St. Mary's in Minnesota, where he played with the likes of Zach and Jordan Parise, Ben and Patrick Eaves and Brady Murray, among others. While he doesn't have the skill of his famous former teammates, Bickley is the kind of player Army loves. He plays a disciplined, team-first game and is more than happy to forgo offensive glory for down-and-dirty grunt work. That's why he has been picked as an assistant captain this season. Interestingly, despite his one career goal, the Black Knights' coaching staff has approached Bickley about shifting to forward, a position he played some in high school and less in juniors, this season. He would serve as a defensive-minded winger.
Bickley, on playing within Army's conservative style: "We have a pretty disciplined lifestyle here, so we're used to having things set up for us. It fits our mentality. There would be no advantage for us to race up and down the ice and get in a shootout with some team. We're just going to keep up what we're doing and, hopefully, we'll have some success this year."
— James Jahnke