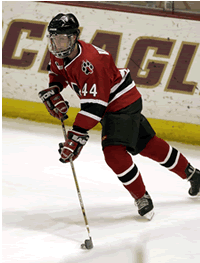 Northeastern was 9-3-3 in games in which Birnstill had at least a point in 2004-05.


---
Key Statistics: Birnstill led Husky defensemen in assists (16) and was second in points (18) in 2004-05, more than double his point total as a freshman.
What He Does: Birnstill is a smooth offensive defenseman, one who can skate, move the puck and lead the power play. He enjoyed impressive growth over the course of the 2004-05 season, and with do-it-all Husky defenseman Tim Judy lost to graduation, he'll need to take on an even more significant role this season.
The Bigger Picture: Birnstill grew as a person last year; his game will improve even more if he grows physically, filling out his 6-foot-2 frame. Added bulk would allow him to play a more physical game defensively and make him that much tougher to knock off the puck. New head coach Greg Cronin plans to make conditioning a top priority, so Birnstill will have no choice but to hit the weight room.
Northeastern assistant coach Gene Reilly on Birnstill: "His skating has gotten much better, and he's certainly developed his quickness. He's a very competitive person. That hasn't translated into more physical play yet, but once he fills out, he could be very tough."
— Nate Ewell