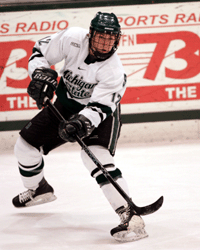 After scoring 17 goals and 19 assists as a freshman, Michigan State's David Booth has scored a combined 15 goals and 19 assists in his last two seasons.


---
Key Statistics: As a freshman, Booth scored an impressive 17 goals and 19 assists in 39 games. In each of the last two years, he's failed to crack the 10-goal and 20-point plateaus and because of injuries and a commitment to the U.S. World Junior team in 2004, hasn't played more than 30 games in a season.
What he does: MSU assistant coach Tom Newton says Booth's statistics don't bear out the improvement he's made during his three years in East Lansing. As a freshman, his offensive repertoire consisted of driving to the net without the puck and finding rebounds. Now, he's a threat to break down defensemen in one-on-one situations, using his strengh and quickness to take the puck to the net on his own.

The bigger picture: Because of his freshman year numbers, Booth may have been unfairly labeled as a pure goal scorer. But he's also a slick passer (the Spartans spotted him below the goal line on the power play last season) and as a member of the gold-medal winning U.S. World Junior team two seasons ago, he excelled as a checking forward. His efforts on the international stage—he also won gold with the U.S.at the 2002 Under-18 World Championships and captured USA Hockey's Bob Johnson Award for excellence in international competition—earned him the reputation as a selfless player who exudes character.
MSU assistant coach Tom Newton on Booth: "David's biggest contribution [to our team] is going to be as a power forward, but he can do so many things. He's strong, quick, has good hands and can shoot the puck. He can grind or run and gun, and he gives our locker room a lot of life and spirit.
— Mike Eidelbes