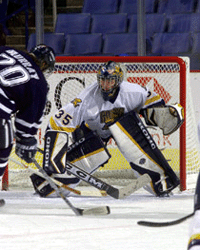 New Canisius Coach Dave Smith says the No. 1 goalie job is Max Buetow's to lose.


---
Key Statistics: They're not pretty. Buetow was 0-4-0 in six games last year as Bryan Worosz's backup, posting a 4.63 goals-against average and .874 save percentage. As a freshman, he went 2-3-1 in nine games, with a 3.85 GAA and .856 percentage. Off the ice, another statistic jumps out about Buetow-— his height (6-feet-6).
What he does: Built like a small forward on Mike MacDonald's basketball team, Buetow obviously takes up a lot of the net, and his height makes him tough to screen. Where he struggles is with quickness. It takes him awhile to move all 78 inches of his body from one post to the other or to recover and get into position for a rebound. The new Canisius coaching staff is hoping to develop a style in which Buetow can maximize his impressive size by being in the proper position as much as possible.
The bigger picture: Canisius head coach Dave Smith, who unsuccessfully recruited Buetow while serving as an assistant at Mercyhurst, said the No. 1 goalie job is Buetow's to lose. The Griffins are bringing in two freshmen netminders, Dan Giffin and Ryan Hatch, but they will battle for the backup role. Despite having only 15 games of experience in two years, Smith said he's not worried about Buetow's ability to handle being the regular goalie. Apparently, Buetow was in a similar situation as a backup with the Springfield Spirit, and he performed admirably when he became the main guy. Smith acknowledged that the Griffins probably will have to "help out" Buetow more than they did Worosz, who earned all-league honors last season. Clearing rebounds out of the way, as always, will be a priority.
Canisius coach Dave Smith on Buetow: "He continues to be a mature, diligent leader for us, and I think he's physically and mentally ready for this challenge. We want him to be as efficient as possible. He has some big shoes to fill, but I think we can do it together, as a team."
— James Jahnke