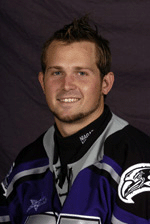 Justin Cross is Niagara's top returning goal scorer.


---
Key Statistics: Most notably, he is Niagara's leading returning goal scorer (10). Cross notched 19 points in 35 games last season, following a 29-point (12-17) performance as a sophomore. He scored on 14 percent of his shots last season, but was minus-9 in plus/minus, tied for third-worst on the team.
What he does: Cross describes himself as a pass-first winger, but he's probably most valuable to the Purple Eagles when he puts the puck on net. He was third on the team in shooting percentage last year, and the two players ahead of him (Barret Ehgeotz and Ryan Gale) graduated. Cross is a solid stickhandler, skater and shooter, but needs to recapture the consistency he had as a sophomore. He has been overshadowed most of his collegiate career by his teammates, so this will be his first season in the spotlight.
The bigger picture: Cross won't have Ehgeotz's playmaking wizardry setting up scoring chances for him, as he did for much of the last two seasons. Junior Sean Bentivoglio could fill a similar role as Ehgoetz, but if Cross doesn't play on Bentivoglio's line, he will have to create more of his own chances. Despite a wealth of seniors, Niagara never jelled as a team last season, meaning team-building is an important chore this fall. Expect Cross to take a leadership role in the locker room as well as on the ice.
Quotable: "It's always been a mental game with me. I started out pretty well last year, but when the team started to go bad, that's when I started to struggle. We had a couple of off-ice incidents around the Western Michigan series (Nov. 5-6), and some things started going bad. The puck didn't bounce for me, and my confidence sort of fell and fell and fell. At the end, I picked it up a little bit, but it was too little too late."
— James Jahnke