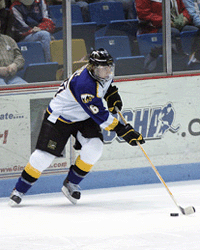 Kelly Czuy is the lone senior on this season's Alaska-Fairbanks roster.


---
Key Statistics: Three, as in the number of seasons of experience Czuy (pronounced CHOO-ee) has under his belt at UAF. He's the lone senior on the Nanooks' roster.
What He Does: Czuy posted pretty good offensive numbers in 2004-05, scoring 10 goals and 27 points, but the Nanooks' coaching staff thought he could do better. Coach Tavis MacMillan says, even though he scored the bulk of his points in the first half of the year, Czuy hit his stride later in the season. Listed at 6-foot-1 and 190 pounds, MacMillan says the senior has grown another inch and added 15 or 20 pounds to his frame. With a slapper that travels nearly 100 miles per hour, Czuy may have the hardest shot in the college game.
The Bigger Picture: Though he's the Nanooks' lone senior, MacMillan wants Czuy to play "off the edge a little bit" and be the team's physical leader. In order to do that, the coaching staff has discussed with Czuy the importance of embracing the role they'd like him to fill and recognizing how that serves the greater good of the team. MacMillian would also like Czuy to shoot the puck more – though he has the ability to beat defenders one-on-one, he's prefer him shoot and crash the net for rebounds.
Alaska-Fairbanks coach Tavis MacMillan on Czuy: "The more physical he is, the more he's shooting the puck and the more he's knocking defenders down and making his presence felt, he'll create a presence for our team and hopefully the other players will follow, especially our bigger, younger forwards."
— Mike Eidelbes