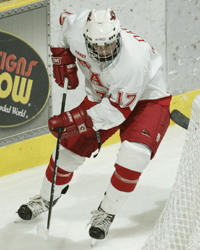 Of Nathan Davis's 14 goals last season, 10 came in special teams situations.


---
Key Statistics: Davis scored four shorthanded goals last season, sharing the national lead in that category with seven other players. Each of Davis's SHGs came during a 12-game stretch from Dec. 29-Feb. 5. For good measure, he also added six power play goals.
What He Does: His ability to read opposing defensemen, make them feel safe enough to attempt risky breakout passes during the power play and turn on the afterburners to steal the puck for a shorthanded scoring chance is amazing, and he shows remarkable patience on breakaways, waiting the goalie out until the last possible moment before making his move. Davis has remarkable speed for a player who measures 6-foot-1 and weighs nearly 200 pounds, and the combination of those skills allow him to be effective whether he's playing an up-tempo game or grinding it out down low.
The Bigger Picture: The RedHawks take pride in their on offensive balance, and Davis's continued development makes it extremely difficult for opponents to focus their energy on slowing down junior wings Matt Christie and Marty Guerin. Late in the season, coach Enrico Blais experimented with Christie and Davis on the same line and the two clicked. They'll likely start the year together, freeing Guerin to play alongside senior Chris Michael or sophomore Geoff Smith and spreading the offensive firepower across two or three lines.
Miami coach Enrico Blasi on Davis: "His quickness and his speed are really a factor when he's killing penalties, and he can play any type of game we want him to play. As he matures over the next few years, you're going to see him turn into what we think will be one of the best players in the country."
— Mike Eidelbes