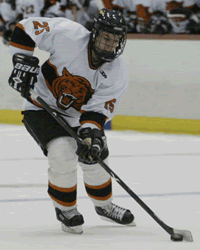 Draper, despite his 5-foot-8, 180-pound vitals, should have an impact in RIT's first Division I season.


---
Key Statistics: Recorded six goals and 15 points in 20 games during his freshman campaign, but that's not why he's a valuable part of RIT's maiden voyage into Division I hockey.
What He Does: The RIT coaching staff admires Draper's consistency and willingness to do the little things that help teams win games. The sophomore forward excels at tasks such as getting a puck off of the boards to start a breakout or being the first one in the zone on a forecheck. He's also a strong penalty-killer.
The Bigger Picture: One thing that the RIT program will learn very quickly is that there aren't any "easy" games in a Division I schedule. That's where Draper's consistency and work ethic will come into play. Despite being relatively undersized (5-foot-8, 180 pounds), he competed and performed at a high level in every game. Other Tiger players will be well-served to follow his lead.
RIT head coach Wayne Wilson on Draper: "Every coach wants a player that can play at a high level and maintain that level every night. You don't want to have to hope for a player to have a good game on a given night. The best thing that I can say about Darrell is that he's reliable."
— Joe Gladziszewski