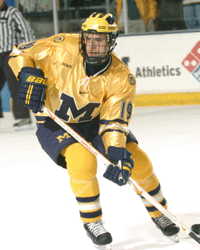 After a two-game benching, Ebbett closed the 2004-05 regular season with 15 points in 12 games.


---
Key Statistics: Of Ebbett's 37 points last season, 31 were assists, accounting for nearly 84 percent of his scoring output. In three years at Michigan, more than three-quarters of his 101 points have been assists.
What He Does: Ebbett can score – he potted 45 markers in 60 games with the British Columbia Junior Hockey League's Salmon Arm Silverbacks in 2001-02 – but on a team that saw eight players score 10 or more goals last season, he's just as adept at setting up teammates. Ebbett's linemates changed often, but he settled into a unit with wings Eric Nystrom and Mike Brown at the end of January. Not surprisingly, Nystrom went on a tear, scoring eight of his 13 goals over the season's last nine weeks. Ebbett is also the Wolverines' top faceoff man, winning more than 54 percent of his draws last year.
The Bigger Picture: Coach Red Berenson, displeased with a pair of sub-par efforts against Western Michigan in mid-January, benched Ebbett for two games against Alaska-Fairbanks the following weekend and snapped his streak of consecutive games played at 108. Equal parts angry and determined, he worked his way back into the lineup the following week and closed the regular season with 15 points (including four goals) in 12 games. As one of the Wolverines' four seniors and someone counted on to do the little things that make teams successful – win faceoffs, kill penalties, shadow the opponent's top line – Ebbett must bring the same level of intensity and focus to the rink every night.

Ebbett on the responsibilities of being one of team captains this season, as told to the Michigan Daily: "I'm focused on…what the goals are for the team. I'm really involved with helping out with guys who need help in certain areas. I just have a passion for the game. I do what I can in the locker room to help guys out and every day I come to practice with a work ethic so the guys see me working hard and that it rubs off on them."
— Mike Eidelbes