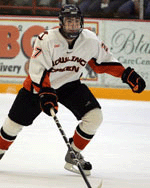 Foster scored 31 points in 34 games for Bowling Green as a freshman.


---
Key Statistics: Foster and linemate Jonathan Matsumoto were the only teammates to rank among the NCAA's top 10 in points per game among freshmen. Foster was ninth at 0.91 points per game (8-23—31 in 34 games), while Matsumoto was 10th at 0.89 (18-14—32 in 36 games).
What He Does: Don't let the eight goals fool you. Foster has a terrific shot – he led the Falcons in shots on goal last season – and is usually on target. Often, the ones that didn't go in turned into scoring chances off rebounds for teammates. Foster, who turns 21 later this month, is a speedy, high-energy forward who also killed penalties as a freshman. He has become a key team leader with his tremendous work ethic on and off the ice. He expects a lot from himself – too much at times, perhaps – in his quest to become a complete player.
The Bigger Picture: Foster spent the bulk of his freshman campaign on a line with Matsumoto and junior Mike Falk (8-12—20 in 27 games). Though the trio was quite effective, coach Scott Paluch likely will split the group in an attempt to spread scoring punch across three lines. While he enjoyed a fine season a year ago, Foster is expected to increase his goal total in a fashion similar to teammate James Unger, who scored 15 times last season after getting just six as a freshman. Bowling Green would certainly welcome more goals – last year with standout Jordan Sigalet in net, the Falcons outscored their opponents by one (117-116).
Bowling Green assistant coach Ron Fogarty on Foster: "He's impressed us from day one. He's an experienced player from the USHL who made the jump [to college] with relative ease. Being a product of that environment has helped us be where we need to be."
— Mike Eidelbes