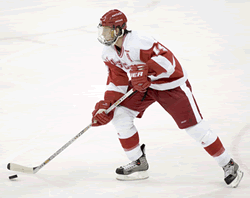 Gilbert had five power-play goals in 2004-05, a key part of a unit that had the third-best power play in WCHA play.


---
Key Statistics: A star forward in high school, Gilbert has emerged into the prototypical offensive defenseman in juniors and in Madison. In his one season with the USHL's Chicago Steel, Gilbert was the league's top goal-scoring blueliner with 13. So it should surprise nobody to learn that Gilbert's eight goals last season were more than double the total of any other Badger rearguard.
What He Does: Scouts wanting the book on Gilbert's talent and leadership need look no further than the nearest bookstore. He's prominently featured in "Blades of Glory," John Rosengren's 2003 tome about high school pucks in Minnesota. Gilbert says he's only read about half the book so far, but gets constant good-natured heat from his teammates about his early literary success. "Of course, I tell them it's just jealousy," Gilbert says.
The Bigger Picture: Badger players and their coach bristle at the notion that it's "defense first" on the ice of the Kohl Center these days. Wisconsin skipper Mike Eaves says they spend as much time working on what do to with the puck as they do on what to do when the other team has it. Exhibit A in the case for Badger offense is their leading defenseman, who says his preferred position is in the slot in front of the opponent's net, preparing to fire a one-timer after a pass from the corner. Gilbert was voted assistant captain by his team before his junior season and voted team MVP at season's end. The coach isn't surprised at the accolades, based on the work ethic he sees in the weight room and in practice. "The players know," says Eaves.

Wisconsin coach Mike Eaves on Gilbert: "We look for him to lead that second wave of offensive support. Tom brings that forward mentality to the blue line and he's such a fine skater that he can be that weak-side defenseman leading the rush."
— Jess Myers