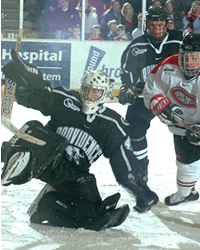 Goepfert has already seen action at the National Hockey Center, as a visiting Providence Friar.


---
Key Statistics: As a freshman and sophomore at Providence, Geopfert faced St. Cloud State three times, going 0-3 and surrendering a dozen goals. When his Friar days came to an abrupt halt (he was dismissed from the team at the end of the 2003-04 season) and he was looking for a new hockey home, Goepfert apparently figured, "if you can't beat 'em, join 'em."
What He Does: While preparing Team USA for the 2003 World Junior Championships, coach Lou Vairo was all set to go with Maine's Jimmy Howard between the pipes. Vairo was impressed and somewhat surprised to see Goepfert outplay Howard and become the top netminder en route to fourth place finish in Halifax. This year Goepfert comes to the WCHA determined to turn around a St. Cloud State team beset by offensive and defensive inconsistency over the past two seasons.
The Bigger Picture: A year away from game action, and a move from the East Coast to central Minnesota, has the former USHL most valuable player feeling a little different as he enters his first season as a Husky. "I felt like an up-and-coming guy for a long time, and now I feel like the grizzled veteran," says Goepfert, who calls himself a "22-year-old journeyman." "This is my time to establish myself as one of the top goalies in the country and help get this program back on the right track." Having felt the wrath of St. Cloud State's rabid student fans a few times while visiting the National Hockey Center during his Providence days, Goepfert is pumped about the idea of hearing encouragement, instead of unprintables, from the Husky Dog Pound this winter.

USA Hockey's Lou Vairo on Goepfert: "He's confident, but never brash, and you don't have to deal with worrying about his state of mind. Bobby is extremely well-liked by his teammates, and he's especially good down low."
— Jess Myers