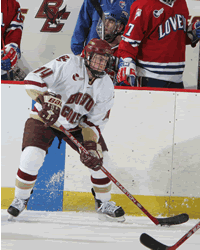 Greene was one of eight Eagles (two of them freshmen) to play in all 40 games last season.


---
Key Statistics: Had a modest 3-5—8 in 40 games as a true freshman out of BC High. While Greene was a staple in the lineup throughout the year, his role grew considerably as the season progressed, especially on an injury-depleted BC team in the Hockey East playoffs.
What He Does: In many ways, he's the quintessential BC forward – small and shifty, and even compared to Stephen Gionta and Chris Collins by associate head coach Mike Cavanaugh. But Greene's more solid than his 5-foot-8 frame would suggest, even if he's never confused (in person, at least) with the 6-foot-3 Matt Greene at North Dakota. That strength on his skates, combined with outstanding speed, makes him an effective penalty killer and a slippery forward in the offensive zone.
The Bigger Picture: Greene's increased role late last year foreshadowed what's to come in 2005-06. The departure of Ryan Shannon, Dave Spina, Ned Havern and possibly Patrick Eaves leaves plenty of spots available on the Eagles' top three lines. He's assured of plenty of penalty killing time, and while his on-ice vision and shot have room for improvement, he could find a role on a power play unit as well.

Associate head coach Mike Cavanaugh on Greene: "I'm interested to see how he takes on more of a leadership role this year. I'd like to see him take things more into his own hands."
— Nate Ewell