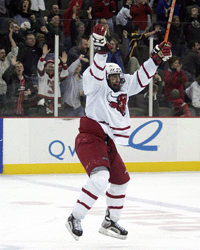 Grimaldi, who almost went the major junior route, made UNO fans jump for joy last season with 17 points.


---
Key Statistics: Grimaldi's plus-minus rating of +24 was second best in the CCHA behind Michigan's Jeff Tambellini. And while there are those skeptical of the validity of the plus-minus statistic (and rightfully so) it should be noted that Grimaldi compiled his mark playing for a Mavericks team that scored only nine more goals than it allowed.
What he does: Outside of perhaps Minnesota's Alex Goligoski, there wasn't a defenseman in the nation that put together a better rookie campaign than Grimaldi – and one could proffer an argument that Grimaldi was more impressive. His offensive numbers (three goals, 17 points) were on par with Goligoski's (five goals, 20 points), but the 6-foot-2, 200-pound Grimaldi commands a greater physical presence than his willowy WCHA counterpart and Mavs' coach Mike Kemp wasn't afraid to use him in just about every situation almost immediately – he was playing close to 30 minutes a game by Christmas. His style is similar to that of ex-Colorado College defenseman Mark Stuart.
The bigger picture: If the Mavericks are to earn their first NCAA Tournament bid, Grimaldi – who nearly eschewed college hockey altogether for the Ontario Hockey League's Windsor Spitfires – will have to anchor a defense that showed its inexperience at times last season. UNO allowed four or more goals in 13 of its 16 losses last season. With forwards like Scott Parse and Bill Thomas, the Mavs are incredibly talented up front. And though complete burden of shoring up the team's defense doesn't rest solely on the rearguards, needing four-plus goals just to have a chance to win won't fly, especially in the grind-it-out CCHA.
UNO coach Mike Kemp on Grimaldi: "There's not one element of his game that jumps out right at you, but there's not one element you can consider a weakness. He's an excellent skater, handles the puck well, moves the puck, is physical and plays hard."
— Mike Eidelbes