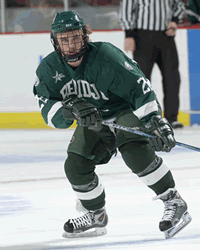 Huddy's father, Charlie, has five Stanley Cup rings.

---
Key Statistics: Huddy had nine goals and 15 assists last season, placing him fifth on the team's points list. Each of the four players sitting above him took at least 23 more shots than Huddy (81). Huddy also was the least-penalized Beavers regular, getting whistled for just five minors all season. His three game-winning goals were good for third on the squad.
What He Does: Well, for one thing, he wears a famous name on his back. Huddy is the son of 16-year NHL stalwart Charlie Huddy, who was a defenseman for Edmonton throughout the '80s and later played for the Kings, Sabres and Blues. Ryan Huddy says he was never inclined to be a defenseman, partly because of his size (5-9, 190) and partly because he's measurably better skating forward and sideways than he is backward. At BSU, Huddy's primary goal at the start of a shift is to penetrate offensively and "get something going." Defensively, he's average – which is an improvement over his early career.
The Bigger Picture: With the departure of Bemidji's top two scoring threats, Andrew Murray and Brendan Cook, Huddy is one of a handful of forwards coach Tom Serratore would like to fill the void. Huddy's personal goal is to finish his college career with 100 points, which would take a 38-point effort this season. It seems like a lot, considering his career high is 27 as a sophomore, but Huddy believes it's reachable. If he reaches No. 100, it will be while wearing a different jersey number than when he started at BSU. Huddy was No. 24 until the school retired the jersey in honor of Joel Otto two seasons ago. He's now No. 26, which he likes because the "6" comes from his junior number (16) and the "2" comes from his father (22).

Huddy, on replacing Murray and Cook: "They were our go-to guys. When we needed a goal, they'd be on the ice, and a lot of times, they came through. They were dominant players. They'd either score or set up the next line to score against a tired line from the other team. If I can have half the season (Murray) had last year, I'd be pretty good."
— James Jahnke