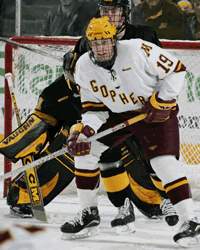 Irmen was a third-team All-WCHA honoree as a sophomore.

---
Key Statistics: After notching 22 points as a Gopher rookie, Irmen was one helper shy of doubling his offensive production in year two, recording 24 goals and 19 assists as a sophomore. Minnesota was 20-8-0 last season in games where Irmen had at least one point, and just 8-7-1 when he was kept off the scoresheet.
What He Does: As a freshman, Irmen got to watch quite a show, as the likes of Thomas Vanek, Grant Potulny, Troy Riddle, Matt Koalska and Keith Ballard lit up the Mariucci Arena ice. As a sophomore, with those five players gone, Gophers coach Don Lucia shoved Irmen and fellow North Dakotan Ryan Potulny into the offensive spotlight, giving them key roles on the top line and on the power play. The result was the No. 1 ranking in the nation for part of the season, and a trip to the Frozen Four.
The Bigger Picture: A promise-filled season is fast approaching, as one of the most heralded freshman classes in college hockey heads for Dinkytown. But Irmen is staying low-key, despite that feeling of anticipation one gets when the possibility of something great awaits. Just as the Gopher roster has changed, so has Irmen's role shifted dramatically in three years, from eager freshman to junior leader. Irmen says his favorite play is to, "go into the corner and muck it up, then feed the puck to the front of the net." With the likes of Blake Wheeler, Tyler Hirsch, Ryan Potulny and Phil Kessel expected to be waiting at the top of the crease to take that pass from Irmen this season, his trips into the corners are suddenly looking like high-percentage plays.
Minnesota head coach Don Lucia on Irmen: "It seemed like last season when Danny and Ryan (Potulny) scored, we won. When they didn't score, we didn't always know who was going to. Danny's a guy that you can pencil in for a good effort every time he steps on the ice, either in practice or in a game."
— Jess Myers