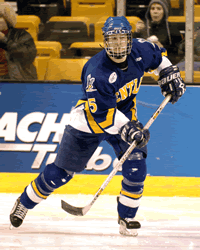 Judd ranked second among Atlantic Hockey rookie defensemen in scoring last season.

---
Key Statistics: Judd was the second highest scoring freshman defenseman in Atlantic Hockey last season, with three goals and 10 assists. He trailed only Quinnipiac's Matt Sorteberg. He also ranked second in scoring among all Bentley freshmen and Bentley blueliners. He missed the Falcons' last five regular-season games with a sprained ankle.
What he does: Judd considers himself a cross between an offensive defenseman and a stay-at-home type. He moves the puck decently and gets regular time at the point on power-play units, but doesn't yet have the skill sets of some of the better offensive defensemen in the league. Judd admits that the transition from wide-open western Canadian juniors to tight-checking Atlantic Hockey was difficult for him. He amassed 20 penalties for 48 minutes amid the NCAA's crackdown on obstruction.
The bigger picture: Sensing that he was a step slow last year, Judd shed 20 pounds this offseason, and is down to a more manageable weight of 200. He says the Falcons coaching staff was on him to play with a more physical, meaner edge last season, but he couldn't do so for fear of heading to the penalty box. Now lighter on his feet, Judd believes that he can stay with onrushing forwards and drive them into the boards rather than grabbing at them as they fly by. Bentley doesn't have much room for error as it is, so playing at even strength more often is important.

According to Judd: "The style of play here is the complete opposite of what I was used to (in the British Columbia Junior Hockey League). There, it didn't matter how fast I was, because I could just hang on to guys. You can do whatever you want. Now, I need to be a little quicker so I don't take so many holding penalties."
— James Jahnke