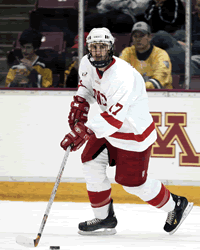 Krantz could be the key to sustaining Cornell's power play success.
Photo by Ron LeBlanc

---
Key Statistics: Doug Krantz played in 31 of Cornell's 35 games last year and contributed nine points from the blueline – on par with Sasha Pokulok and Ryan O'Byrne (10 each) – but was well shy of departed senior Charlie Cook's 22 points.
What He Does: Krantz fits the mold of a typical Cornell defenseman. At 6-foot-3 and near 200 pounds, he provides a formidable physical presence in front of Dave McKee. He can also chip in at the offensive end and features a tremendous slap shot.
The Bigger Picture: Cornell relied on its power play to provide the bulk of its overall offense last year, and it will be expected to do the same this season. The No. 1 power-play unit lost only one player, the aforementioned Cook, and Krantz is among the candidates to step into Cook's role on the point and get shots to the net where Shane Hynes and Byron Bitz will screen the goalie and Topher Scott can crash for rebounds from the wing.

Cornell head coach Mike Schafer on Krantz: "He gives us someone who has great size at the blue line. He has the ability to get up and down the ice to contribute on offense as well. Doug will also help us on the power play with his shot, which was the hardest on the team last year."
— Joe Gladziszewski