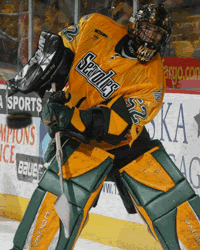 Handling the puck is as much a strength as stopping it for Lawson.

---
Key Statistics: Lawson may have been the hardest-working man in the WCHA as a freshman. He started 24 games for the Seawolves and had 18 outings in which he made 30-plus saves. His route to a spot on the WCHA's all-rookie team included seven games where his save total topped 40, including a season-high 45 in a playoff loss to Wisconsin.
What He Does: In addition to natural athletic talent, Lawson says he's been blessed with an ability to sleep anywhere. Even on airplanes. That's a good thing when one considers the thousands of air miles the Seawolves log each season traveling to and from WCHA rinks, and considering the 867 saves Lawson made as a rookie. Stopping better than 91 percent of the shots sent his way and leading his team to within a controversial Badger goal of another trip to the WCHA Final Five was enough to prompt Lawson's teammates to vote him both rookie of the year and team MVP last season.
The Bigger Picture: With the workload he handled as a freshman, one might think there was little time for Lawson to do anything but deflect pucks. To the contrary, he says that he likes to handle the puck as much as possible – a trait reflected by the three assists he notched last season (the most ever by a Seawolf netminder). Goalies have a normal tendency to look ahead, knowing that the last shot you stopped means nothing if the next shot gets by you. To that end, Lawson has spent the summer lifting weights, swimming and working with a goaltending tutor determined to stay healthy, get even better and help the Seawolves earn home ice in the WCHA playoffs for the first time ever.

Former Alaska Anchorage head coach John Hill on Lawson: "We felt when he came in that he'd eventually be the top guy, but after the Christmas break, he probably played as well as anyone in the country. It's safe to say that he won some games for us damn near single-handedly."
— Jess Myers