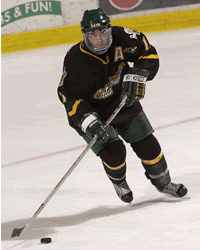 Leisenring wears No. 11 in honor of his friend, former Catamount standout Ian Boyce.

---
Key Statistics: Tied for the ECACHL lead in conference scoring in 2003-04 while posting 15-21—36 overall totals. He was a first-team All-ECACHL selection and the team's co-MVP. Only appeared in six games last season before he was sidelined with a recurring groin injury, but had 3-6—9 in that limited action.
What He Does: A team leader entering his third season as an assistant captain, Leisenring became more of an assistant coach after his injury last year, earning the nickname "Reggie Dunlop" from teammates. More importantly, he's a tremendously skilled player who will be the Catamounts' biggest offensive threat the instant he returns to the ice.
The Bigger Picture: While many teams aren't surprised to see star players leave school after one, two or three years, Vermont has the luxury of Leisenring's presence for an almost-unheard of fifth year. Last year's six-game cameo doesn't count eligibility-wise, giving him an extra season at what could be the perfect time for the Catamounts. They are coming off a surprisingly successful season, entering a new league, needing to replace Scott Mifsud's scoring, and boasting a good balance of experience (captain Jaime Sifers) and youth (Joe Fallon, Torrey Mitchell). Leisenring's return is a big lift for a team that seems poised to challenge for an NCAA Tournament bid.
Vermont head coach Kevin Sneddon on Leisenring, when he was injured last fall: "He's an all-league player and he provides a ton of offense. He's certainly an exciting, energetic player and that first line combination [with Mifsud and now-sophomore Torrey Mitchell] had great chemistry going."
— Nate Ewell