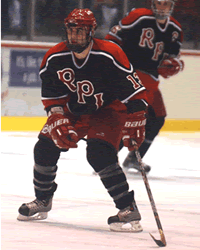 MacDonald had 16 points in the last 13 games of 2004-05.

---
Key Statistics: MacDonald led the Engineers in goals (16) and overall scoring (36 points) and was named the team's Most Valuable Player. By finishing atop the scoring chart, he unseated classmate Kevin Croxton, who led RPI in scoring in their freshman and sophomore campaigns.
What He Does: He does a lot of things, making him one of the most well-rounded players in the ECAC Hockey League. Not only did he lead RPI in goals and points, but also game-winning goals (4) and power-play goals (8), and ranked second on the team in penalty minutes. MacDonald is also one of RPI's most responsible defensive forwards.
The Bigger Picture: MacDonald's senior season is sure to be even more special than most as he is recovering from a serious illness. He was diagnosed with testicular cancer in April. In a statement released by the university, MacDonald said, "I will begin treatment immediately, and fight as hard as I possibly can. I fully expect to return to the ice in time for my senior season."
Rensselaer head coach Dan Fridgen in the Albany Times Union on MacDonald's recovery and his chances for a return to the lineup: "He's doing very well. He just finished his third round of chemotherapy (in June), and he's got one left. If everything goes well with that last round of chemotherapy, it's definitely a possibility."
— Joe Gladziszewski