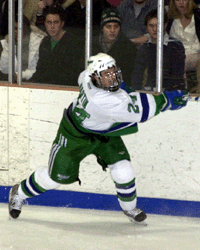 Martin's injury made any hpoes of a Mercyhurst upset against Boston College that much slimmer.

---
Key Statistics: Martin notched two goals and 15 assists last season. During his three years in Erie, Martin's goal scoring has stayed even (three as a freshman, two in each of the past two seasons), while his assists have grown (from six to eight to 15). Despite a nagging knee injury, he played in all but one of the team's games last season. He also led the team in two very different categories – plus/minus (+10) and penalty minutes (84). Was named Atlantic Hockey's Best Defensive Defenseman.
What He Does: He's a bruiser first and foremost, but Martin has pitched in more and more on offense each season. At 6-feet-2, 215 pounds, he is about as rugged as Atlantic Hockey defensemen come, and he has strength and grit to match his size. Offensively, he has a nice shot and seems to see the ice well, as evidenced my his mounting number of assists.
The Bigger Picture: Remember that knee injury we referenced in the "Key Statistics" segment? Well, Martin was able to play through it all year until he took a controversial check against Boston College in the NCAA tournament. At that moment, the joint went kaplooey. Martin missed the second half of the game and had knee surgery in the offseason. Lakers coach Rick Gotkin said Martin was wearing a cast from his ankle to his hip as recently as a month ago, but he reportedly had it taken off within the last couple of weeks. The team hopes to have him back on the ice by November. When he returns, it will be without longtime sidekick T.J. Kemp, who was a senior last season. Gotkin said the offensive-minded Kemp and defensive-minded Martin were perfect complements – not to mention great friends. Martin, who will be a captain, won't have the luxury of playing with someone of Kemp's caliber this year, so he'll have to take the next step and be the unquestioned leader of Mercyhurt's blueline corps.
Mercyhurst head coach Rick Gotkin on Martin: "He's a guy we put out there in the closing minutes when we're trying to keep the other team from scoring, and he's a guy we put out there in the closing minutes when we need a goal. We give him a lot of responsibility. We're expecting a big senior season out of him, so we hope to get him back in the fold real quick."
— James Jahnke