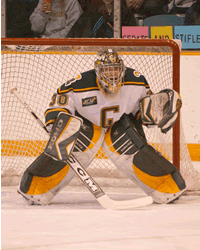 McNulty went 2-6-1 in nine starts in 2004-05, but could be Clarkson's No. 1 goaltender this winter.

---
Key Statistics: McNulty's stats – 10 games played and nine starts with a 2.98 goals-against average and .894 save percentage – aren't noteworthy. Dustin Traylen, who was dismissed from the team earlier this year, has started 80 percent of Clarkson's games and been the goalie of record in 77 percent of Clarkson's wins over the last two seasons.
What He Does: McNulty is a solid technical goaltender that enters this season in a duel with sophomore David Leggio for the right to be Clarkson's new go-to guy between the pipes. McNulty has the edge in experience, but each goalie goes into pre-season camp with an equal chance to win the starting job.
The Bigger Picture: Nobody involved with the Clarkson program will deny that last year was a disappointment. The team came in with high expectations and struggled most of the season. Inconsistent goaltending and poor leadership affected the Golden Knights. If McNulty wins the starting job and plays well – and continues to be a positive locker room presence – he could singlehandedly help turn around both of those issues.
Clarkson head coach George Roll on McNulty: "Kyle is one of those guys that you want to see succeed. He has a great work ethic and he does everything that a coach could ask of a player on the ice, in the classroom, and there's never been any issues off the ice."
— Joe Gladziszewski