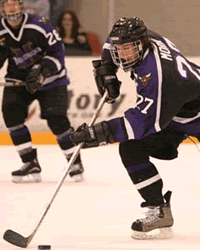 Morin carries a seven-game point-scoring streak into 2005-06.

---
Key Statistics: It took Morin nearly a month to kick the sophomore jinx, but then he kicked it in a big way. After being held without a point in the Mavericks' first six games last season, he averaged better than a point per game the rest of the way, notching a dozen goals and 19 assists in their final 30 contests. And he erased memories of that slow start with a strong finish, ending the season on a seven-game point streak.
What He Does: Mavericks fans are getting used to seeing Morin and David Backes on the same line. But it's unknown whether opposing defenders have gotten used to the sight of two forwards so physically big bearing down on their goalie. With Morin at 6-foot-2, 195, and Backes at 6-3, 210, the amount of mass carrying the puck is formidable. But Mavericks coach Troy Jutting says what makes the line click isn't physics, it's chemistry and the fact that the pair understands each other so well as hockey players.
The Bigger Picture: The NFL's Minnesota Vikings hold their training camp in Mankato for a few weeks every summer. Ditto for the hockey Mavericks, except that this year's training camp has been an all-summer affair. Morin said nearly every player has spent the off-season in southern Minnesota taking classes, hitting the ice a little bit and spending hours in the weight room. And Morin knows first-hand what lifting can do, having put nearly 30 pounds of muscle on his frame since the start of his freshman year. Along with his team taking a step toward consistently competing with the likes of Minnesota, Denver and North Dakota this season, Morin again sees himself in the setup role, feeding the puck to Backes and letting his linemate's monster shot illuminate the red light behind the net.
MSU, Mankato head coach Troy Jutting on Morin: "Travis takes as much pride in making a nice pass to set up a goal as he does in scoring one himself. There aren't many players you can say that about, but he'd just as soon get an assist."
— Jess Myers