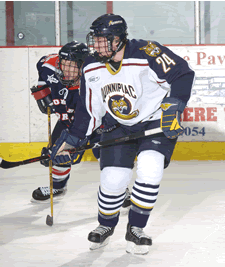 Nelson scored on his first shot on goal as a freshman at Quinnipiac last year.

---
Key Statistics: Nelson finished third on the Bobcats in scoring with 18 goals and 28 points, despite missing the first 12 games of his collegiate career due to a separated shoulder.
What He Does: Simply stated, Nelson scores goals. His 18 tallies came in just 25 games and he scored on his first shot as a collegiate player. Nelson found a home centering Chris White (now graduated) and classmate Jamie Bates.
The Bigger Picture: Nelson's scoring spark helped rocket the Bobcats up the Atlantic Hockey standings in the second half of the year. After a mediocre start, Quinnipiac rattled off a seven-game winning streak to climb back into the race. After back-to-back losses, they one-upped themselves with an eight-game winning streak. Nelson will need to provide that same sort of energy as the Bobcats enter their inaugural season as a member of the ECAC Hockey League.
Nelson on his goal-scoring touch: "I've always been put on teams to score, so this is nothing all that strange to me. I'm just working hard and shooting the puck, and it's working out."
— Joe Gladziszewski