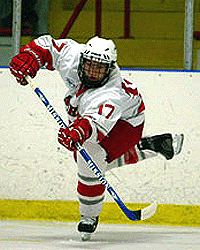 Parent ranked third among Atlantic Hockey rookies in points (25) and second in assists (16) last season.

---
Key Statistics: Parent, the lone rookie to appear in all of the Pioneers' 35 games last season, scored nine goals and 16 assists and ranked third among Atlantic Hockey freshmen in points behind Ben Cottreau of Mercyhurst and Quinnipiac's Ben Nelson.
What He Does: Gives Atlantic Hockey opponents fits. The quick and nimble Parent scored 22 of his 25 points against conference foes last season. Coach Shaun Hannah didn't hesitate to use Parent in just about every situation, and the freshman played a key role in keeping Sacred Heart in the thick of the Atlantic Hockey title chase until the last weekend of the regular season.
The Bigger Picture: With eight of its top 10 scorers returning, the Pioneers expect to challenge Canisius, Holy Cross and Mercyhurst for the top spot in Atlantic Hockey. Pioneer fans wouldn't complain about a repeat performance from Parent, but he'll likely have to increase his production to help replace the graduated Garrett Larson in order for the team to improve on last season's fifth-place showing.
Sacred Heart coach Shaun Hannah on Parent: "Alex is a very versatile player for us. He is an integral part of the power play and is one of the key players we look to in killing a penalty. His game is very creative and we could see very early on that he could play at this level."
— Kirk Mueller