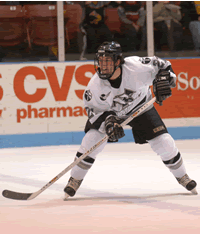 Rheault's first season wearing the Skating Friar featured a team-high 11 goals.

---
Key Statistics: Jon Rheault shared the Providence team lead in goals as a rookie with 11, finishing third on the team in points with 19 in 36 games. Only four Hockey East freshmen had more than his 12 conference points. Although he was ranked 82nd among North American skaters eligible for the 2005 NHL Entry Draft by Central Scouting, Rheault was surprisingly overlooked on draft day.
What He Does: Rheault has a good all-around game, seeing time in both power-play and penalty-killing situations, but he's most noteworthy on the Friars for his offensive gifts. He's a strong skater with good hands, and an ability to not only create chances but finish them off as well.
The Bigger Picture: New Providence coach Tim Army has vowed to open up the Friars' offensive game, which has to be music to Rheault's ears. A more aggressive offensive style should produce more chances, and he has the skill to add considerably to his already impressive freshman goal total. While they have yet to meet in person (classes begin next week), Army has let Rheault know by phone how important his contributions will be to the team's hopes of a turnaround from last year's seventh-place Hockey East finish.
Providence head coach Tim Army on Rheault: "Our leading scorer had 30 points last year (Chris Chaput), and we've got to get more than that. We've got a lot of guys who are capable of more offense in the lineup, but when you look at Jon and Colin McDonald, those are two guys who I really expect a lot out of."
— Nate Ewell