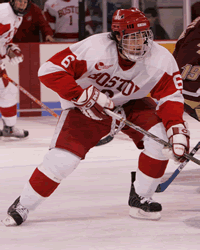 ---
Key Statistics: Kenny Roche couldn't escape the dreaded sophomore slump last season, as he saw a significant statistical drop-off in a year of high expectations. Following a freshman campaign that saw him light the lamp for nine goals and rack up 18 points – both highs among Terrier rookies – Roche only scored five goals while tallying 11 points. He finished a mere 11th on the team in total points, but this was a team that ran deep in point scorers. As a result, Boston University leaped from eighth place in Hockey East in 2003-04 to a second seed in the conference tourney last season.

What He Does: When he's on, Roche can do everything a Hall of Fame coach would ask an offensively talented player to do. He has a natural knack with the puck on his stick, and he'll create his own chances. He'll play on a top line on one of the best teams in the country, and he'll play near the net on the power play. When he's not bringing the puck to the net himself, he can position his 6-foot, 198-pound frame well enough near the net to bang home a rebound. And when he wasn't having the puck luck he may have deserved with his fine second half last season, he would do smaller things to maximize his time on the ice.
The Bigger Picture: BU has a few holes to fill this year due to the departure of three of last season's top-seven scorers. Bryan Miller (6-20—26) and Brian McConnell (9-12—21) both graduated, while Chris Bourque (10-13—23) unexpectedly left the team in the spring and signed with the Washington Capitals earlier this month. Those 70 points need to be accounted for somehow if the Terriers are to challenge for a Hockey East championship in what will be a wide open race this year. BU coach Jack Parker is confident that Roche's more significant role in the upcoming season will land him more headlines during the Terriers' first full season at Agganis Arena.
BU head coach Jack Parker on Roche: "We're presuming that he can revert back to being a real good offensive player. He had a lot of chances last year, but the puck didn't fall for him. He had a really good freshman year, as far as goal-scoring. He fell off a little bit last year, but we think he is going to evolve into a role as one of our most important offensive players. We're hoping that his promise will really blossom this year."
— Jeff Howe