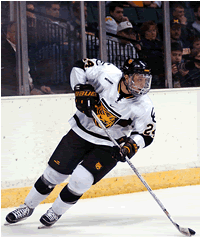 Two early departures made Brian Salcido's role with Colorado College that much more important.
Photo by Andris Visockis


---
Key Statistics: After dressing in a mere dozen games as a freshman (recording just one point – a game-winning goal vs. MSU, Mankato), Salcido's second season in Colorado Springs was the consummate breakout year. After earning a spot on the team's top power play unit, he notched 30 points for the Tigers and went on a torrid streak at midseason, with a dozen points in one nine-game stretch.
What He Does: As a standout in the Southern California hockey community, and during a successful prep school run at Shattuck-St. Mary's in southern Minnesota, Salcido has earned a reputation as a defenseman with a forward's size and moves. Admitting his defensive game still needs improvement, Salcido instead talks of looking to make the perfect one-time pass, and perfecting his ability to freeze an opponent with a quick shake of his head or his shoulder.
The Bigger Picture: Among the ranks of upperclassmen on the Colorado College defensive roster, it got a little less crowded over the summer, with the early departures of Brady Greco and Mark Stuart for the pro hockey ranks. Salcido says that each of those players provided very important elements to the team's run to the Frozen Four. In their absence, he admits being focused on the increased minutes and the increased leadership role that will come his way as the Tigers look for their third WCHA title in the past four seasons. His coach says Salcido will be a much more featured defenseman this season, both out of merit and out of necessity.

CC head coach Scott Owens on Salcido: "He's clearly a defenseman who can contribute offensively, and has a very low panic point with the puck. Brian has great vision all over the ice and an ability get the puck into a forward's hands at the right time."
— Jess Myers