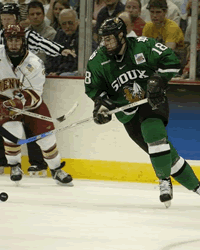 Drew Stafford assisted on North Dakota's goal in last April's national championship game.
Photo by Sam Cooper


---
Key Statistics: Stafford was the third-leading scorer for North Dakota last season with 38 points in 42 games, but his best work usually comes when the ice on the Red River is melting. In two seasons of wearing a Fighting Sioux sweater, Stafford has played in 14 playoff games and recorded 14 playoff points, including six points in four NCAA playoff games last spring.
What He Does: A national TV audience got the drift that his second year of college would be a special one for Stafford way back in October, when his overtime penalty shot goal gave the Sioux a 4-3 season-opening win at Maine. That was the first of his team-leading five game-winners as a sophomore. He's also been a hit on the international stage, winning a gold medal with Team USA at the 2004 World Juniors in Finland, and being named Team USA's MVP last January after the 2005 World Juniors in Grand Forks.
The Bigger Picture: Summers are notoriously short in North Dakota, but with a rematch of the NCAA title game scheduled for Oct. 28 in Grand Forks, this particular summer seems to be taking forever for Stafford and some Sioux teammates. Along with winning one more NCAA playoff game this time, Stafford said his junior year goal is to expand the offensive side of his game. Playing good hockey is a Stafford family tradition. Drew's heroics come a generation after his father, Gord, played for the IHL's Milwaukee Admirals for much of the 1980s. With the next Frozen Four scheduled for the Admirals' home rink, the Bradley Center, Stafford is aiming to earn a trip to a special family hockey reunion next April in Milwaukee.

Minnesota Duluth head coach Scott Sandelin on coaching Stafford at the World Junior Championship: "I really enjoyed coaching him. Drew was very consistent, even with an increased role on the team. With his talent level, and skill-wise, he was right at the top of the roster. He was our best player."
— Jess Myers