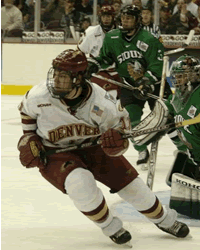 Paul Stastny was a constant threat around the North Dakota net at the Frozen Four.
Photo by Sam Cooper


---
Key Statistics: En route to being named the WCHA's top rookie last season, Stastny finished second to teammate Gabe Gauthier on the Pioneers scoring chart with 45 points in 42 games. Most significant among those points were the two goals he notched in Denver's 4-1 win over North Dakota in the national championship game – earning him a spot on the Frozen Four's all-tournament team, as well as a nice ring.
What He Does: A Stanley Cup was about the only honor that eluded Paul's father, Peter, during the elder Stastny's 15-season NHL career with the Nordiques, Devils and Blues. Not so for Paul, who took step one in filling his hall-of-fame father's big skates as a college hockey rookie, winning a NCAA title while putting up eye-popping numbers. Stastny knows that a cool last name isn't the only thing he got from his father, and shows it on the hockey rink. "There are some things about the game, that you can't teach," Paul says. "I know that I'm fortunate to have those genes, and I try to take full advantage of them on the rink."
The Bigger Picture: Denver coach George Gwozdecky and his assistants did extensive scouting of Stastny while the player was skating in the USHL. Consistent reports that Stastny was "an OK player but couldn't skate" left the DU coaches scratching their heads, especially when they saw his ability to pass the puck and make plays with a chessmaster-like ability to think several moves ahead of an opponent. Stastny admits that he's not the fastest guy in the world, or even on the team, but notes that hockey isn't played all at one pace, and uses his mobility and his ability to see the ice to make plays. That playmaking ability will certainly be a key if the Pioneers are serious about making college hockey's first-ever NCAA title three-peat.
Pioneers coach George Gwozdecky on Stastny: "Paul plays as well in his own zone as in the opponents' zone, and he sees plays one or two steps ahead of anyone else. You can say a lot for genetics, because there are certain things he has that he hasn't been taught here."
— Jess Myers