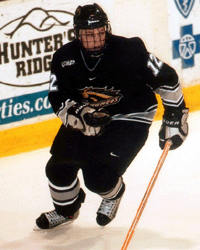 Szczechura scored 29 points for the Broncos last season—all but three of them came prior to Feb. 1.


---
Key Statistics: While his overall numbers were solid – 6-23—29 in 37 games – they could've been spectacular. Szczechura managed just one goal and two assists in the Broncos' final 15 contests.
What He Does: Brent Walton, who cracked the 50-point plateau, and Vince Bellissimo, who left school early to join the Florida organization, garnered most of the attention, but Szczechura (pronounced shuh-HER-uh) is probably the team's most complete player. He's a good skater, plays smart in all three zones, possesses solid defensive skills and is an excellent puckhandler and passer. His ability to read the play and move the puck to the wings for prime scoring opportunities was a major reason why Walton (21 goals) and Bellissimo (17 goals) were so prolific.
The Bigger Picture: It should come as no surprise that Szczechura is so fundamentally solid – his hockey coach for three seasons in Brantford, Ont., as a youngster was Walter Gretzky. With Bellissimo's departure, the Broncos have to find a replacement for a guy who scored 49 goals and 113 points during his three seasons in Kalamazoo. A few more goals from Szczechura would be a plus, but it's more likely that he'll be counted on to put the puck on the tape of one of the team's younger wingers for scoring chances.
Western Michigan coach Jim Culhane on Szczechura: "Paul is probably one of the smartest kids that I've coached at Western. [He] is a very good student of the game. I think the biggest thing for him now is to grow as one of our leaders. He's relied upon to do a lot of things for us as a team, and I think he's well respected by his teammates."
— Mike Eidelbes