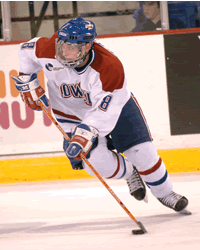 Tejchma finished sixth on the River Hawks in scoring as a sophomore and is expected to make big strides this winter.
Photo by Ken Babbitt

---
Key Statistics: First of all, Jason Tejchma has been very durable during his first two years in Lowell, playing in all 76 of the River Hawks' games through his career. More impressive for the youngster is that his 20 goals rank him fourth on UMass Lowell over that two-year period. He netted 11 goals last season and contributed 15 assists for 26 points on a team that opened some eyes by finishing fifth in Hockey East in 2004-05. The River Hawks tallied three short-handed goals last year, and Tejchma was responsible for two of them.
What He Does: Those two short-handed lamp lighters are a perfect example of what Tejchma brings to the ice each and every night. The coaching staff loves having him on the penalty kill, and they often keep him on the ice longer in those situations because of his ability in the transition game. He can show a burst of speed when the opposition has dead legs at the end of shifts, which is the first thing that coach Blaise MacDonald raves about when talking about Tejchma.
The Bigger Picture: The River Hawks won't be able to sneak up on anyone this year like they did last, as 22 of the 24 skaters who scored a point last season return in 2005. Leading scorer Ben Walter will take his 39 points south to the Boston Bruins this year instead of returning to Lowell for his senior campaign. The surprising departure will mean bigger roles for everyone on the team, and MacDonald is asking that each of his River Hawks be five percent more productive as a result. An added five percent of production won't cut it for Tejchma, however, because MacDonald has him penciled in for 18 goals and 22 assists for 40 points this season. For those of you with your own pencils at home, that is a 64 percent increase in goals, a 47 percent increase in assists and a 54 percent increase in overall production.
UMass Lowell head coach Blaise MacDonald on Tejchma: "He's never out-competed. What I absolutely love about him is he thrives in situations where he senses a weakness in the opponent, particularly near the end of shifts. He anticipates well. He is a calculated risk taker, and he has poise and skill to be productive on the power play as well."
— Jeff Howe