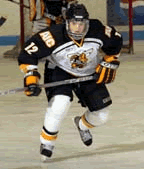 ---
Key Statistics: Valdes will be asked to provide more scoring punch for the Yellowjackets as a senior. The team's third-leading returning scorer from a year ago, he notched a team-best nine goals and added five assists.

What He Does: Score when it counts. Case in point—Valdes had two goals in AIC's 4-1 win against Sacred Heart late last season. The victory gave a scuffling Yellowjacket group a positive vibe at the end of the year and snapped Sacred Heart's four-game winning streak, sending the Pioneers into a late-season tailspin from which they would never recover. In AIC's four wins, Valdes registered three goals and two assists.

The Bigger Picture: In looking at the Yellowjackets of a year ago—an NCAA-low four wins, among the bottom five in the country in scoring offense, scoring defense and power play success—one might think coach Gary Wright has quite a mountain to climb in order to bring AIC to Atlantic Hockey respectability. A closer look indicates Wright has the Yellowjackets right on the cusp. AIC, which returns all but three players from a year ago, lost 11 games by two goals or less in 2004-05. If Valdezs and Co. draw on their experience and leadership, AIC could easily move up in the Atlantic Hockey standings this season.

AIC coach Gary Wright on Valdes: "Jeff is a great player and a great ambassador for American International hockey. His play on the ice mirrors his conduct off the ice, and his offensive play and improvement we look forward to seeing this season."
— Kirk Mueller