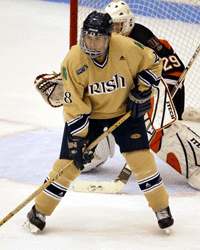 ---
Key Statistics: Wallace enters his senior campaign having played a Ripken-esque 117 straight games. If he appears in each of Notre Dame's games this season—the Irish will have a minimum of 36 contests—he'll rank third on the school's list of career games played.

What He Does: Not only does Wallace show up for work every weekend, he's had the uncanny ability to ratchet up his play when the are raised. For example, he had a significant role in helping Notre Dame to Joe Louis Arena for the CCHA playoffs in 2003 and 2004. A member of the U.S. team that captured the gold medal at the World Under-18 Championships in 2000, Wallace is versatile enough to play a variety of roles and eats up plenty of ice time in 5-on-5 and special teams situations.

The Bigger Picture: At 6-foot-1 and 211 pounds, Wallace is built like the prototypical power forward, and he was expected to be an impact player for Notre Dame after scoring 37 points in his final season with the U.S. Under-18 Team. He's managed just 14 goals in three seasons with the Irish and it's not for a lack of effort—he's a tireless competitor who's been snakebit at times ("an inordinate amount of crossbars, posts and goals waved off," says assistant coach Andy Slaggert) during his career. Wallace would seem to be tailor-made for the type of system new coach Jeff Jackson would like to employ, which places a premium on physical forwards who can carry the puck. The Irish are a veteran team and a return to the .500 range shouldn't come as a surprise. It's a better bet if Wallace can reach double figures in goals, remain a valuable special teams contributor and rise up in pressure situations.

Notre Dame assistant coach Andy Slaggert on Wallace: "He has the potential to play a key role this season. He's played in a lot of key situations before. [The players] have all been given a clean slate to find themselves and define themselves. It's going to be up to Tim to show [the coaching staff] what he can do."
— Mike Eidelbes