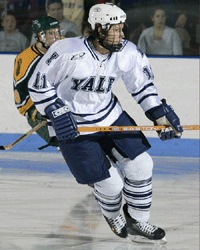 Yaworski led Yale's freshman class last season with 18 points in 32 games.
---
Key Statistics: He led Yale's rookie class in scoring and finished fourth on the team with 18 points. His 13 assists ranked third on the team. Yaworski dressed in all 32 of Yale's contests last season, one of just six players to suit up every night for the Bulldogs.
What He Does: At 6-feet-2 and 195 pounds, Yaworski has the build to be considered a power forward but is also skilled enough to beat you on a rush or make a pretty pass. He is not a vocal player, but carries a strong work ethic and good attitude in the locker room.
The Bigger Picture: In order for Yale to move up in the ECAC Hockey League standings everyone on the roster will need to take their games to a new level. The Bulldogs were one of the youngest teams in the nation last year. Their top 13 scorers return for the 2005-06 season. As one of the most talented forwards on the team Yaworski will be counted on to play an all-around game, but also to increase his scoring.
Yale associate head coach CJ Marottolo on what Yaworski will need to work on this season: "We need him to increase his consistency. It's a challenge that most freshmen face. Some weekends last year he was very good on Friday nights and you would hardly notice him on Saturdays."
— Joe Gladziszewski