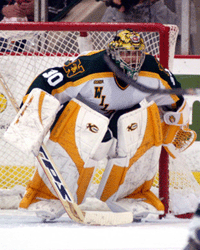 In eight starts last season, Zaniboni poted a 2-3-2 record and a .916 save percentage.
---
Key Statistics: Zaniboni played in just eight games last season, but coach Walt Kyle didn't put him up against patsies. Of those eight starts, all but one was on the road and all but two came in the first game of a two-game series.

What He Does: Wildcat fans hope he does what the departed Tuomas Tarkki did last season—come out of relative obscurity to post an All America-caliber season. For a guy who only made a handful of appearances last year, Zaniboni played rather well as evidenced by his .916 save percentage and 2-3-2 record (admirable considering he made only one home start). At 6-foot-1 and a shade under 200 pounds, he's a big goalie with has good quickness, but Kyle says Zaniboni's best attribute may be his competitiveness—he's a fierce battler in practice as well as in games.

The Bigger Picture: Just like last year, Kyle will rotate goalies with Zaniboni and freshman Derek Janzen splitting time early. And like last year, NMU's fourth-year head coach expects one or the other to emerge as the team's no. 1 starter. Zaniboni has a slight edge because of his playing experience and after waiting two years to become the team's go-to goalie (he sat out the 2003-04 season behind Tarkki and Craig Kowalski) he'll likely not squander this chance, especially given his competitive streak. Whomever starts in goal for the Wildcats will benefit from playing behind a deep, experienced group of skaters—besides Tarkki, NMU lost just two regulars from last year's 22-11-7 squad.
Northern Michigan coach Walt Kyle on Zaniboni: "Bill is a little bit of a hidden entity, but he had really good numbers in the games that he played [last season]. He's worked on his conditioning, because he's got to be just as good on Saturday as he was on Friday, and he's got to be as good at the end of a game as he was in the beginning."
— Mike Eidelbes