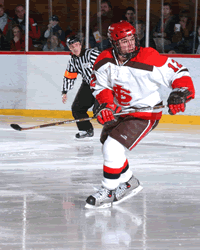 Zeiler and the Saints have high expectations for 2005-06.
---
Key Statistics: Zeiler led the Saints with 23 assists last year and was second on the team in overall scoring (32 points) to linemate T.J. Trevelyan. Five of his nine goals were scored on the power play.

What He Does: Zeiler is a prototypical first-line forward. He's skilled, turns in a consistent effort, and wants the puck on his stick in big situations. He was probably overshadowed in past seasons by Trevelyan and Rich Peverley, but as a senior, this Phoenix Coyote draft pick is due for a big year.

The Bigger Picture: The Saints are, "on paper," one of the most talented teams in the ECAC Hockey League. It starts at the top, with Zeiler and Trevelyan. Those two players – and a pair of excellent defensemen in senior Mike Madill and junior Drew Bagnall – know that the time is now if they want to challenge for an ECACHL championship. The quartet is taking the responsibility on their shoulders and it will be a tremendous disappointment to them if they don't lead their team to the league's championship weekend in Albany.

St. Lawrence head coach Joe Marsh on Zeiler: "John Zeiler is going to be a big factor for us this season, as he has been in the past. He brings a lot to the table. He is a tough, honest hockey player who plays a physical game and has excellent offensive talent. He works extremely well with T.J. Trevelyan, and we feel the two of them will be among the top forwards in the east this season."
— Joe Gladziszewski