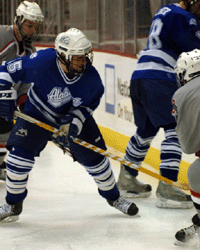 Arvai plays bigger than his 5-foot-10, 170-pound frame would suggest.
---
Key Statistics: 67 percent, representing Arvai's increase in point production last season (2-18 —20) compared to the numbers he totalled in his first two seasons with the Chargers (3-9 —12 in 55 games).

What He Does: Alabama-Huntsville assistant coach Lance West says that if you asked members of last year's Charger squad for their opinions on the team's best defenseman, the majority would choose Arvai. That's quite a statement considering the club boasted two stalwarts on the blueline in Jeremy Schreiber and Jeff Winchester. Despite measuring in at 5-foot-10 and 170 pounds, Arvai is a warrior who's not afraid to put his body on the line, makes smart decisions with the puck and developed into a fine power-play quarterback last season.

The Bigger Picture: The senior blueline trio of Arvai, A.J. Larivee and Mike Salekin will be crucial to Alabama-Huntsville's success this season. In the tightly bunched CHA, a measly goal or two can mean the difference between finishing in second or fourth. Case in point: Last season, the Chargers outscored foes by a total of two goals (105-103), and that was with all-CHA first-team selection Schreiber, Winchester and goalie Scott Munroe, the CHA co-player of the year, in the lineup. Returning netminders Marc Narduzzi, a junior, and sophomore Jordan Erickson have combined for a touch more than 360 minutes of career playing time. Freshman Corey Milan, who ranked third in the British Columbia Hockey League with a 2.34 GAA for the Penticton Vees last season, will definitely compete for playing time. Still, the defensive corps will play a huge role in determining how smooth the transition in goal goes.
Alabama-Huntsville assistant coach Lance West on Arvai: "Most guys will tell you that you can win with a good defense and average forwards. Not many teams win with an average defense and good forwards. There will be a lot of pressure on our defense to help build our goalies' confidence early. [Arvai] will set the tone for us."
— Mike Eidelbes