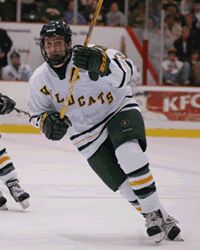 Bateman brings a physical dimension along with his scoring ability.
---
Key Statistics: Five was alive for Bateman last season, as he finished fifth among Wildcats in goals (10), assists (19) and points (29). He easily led the team in penalty minutes, amassing 87 on 30 infractions. For his career, he has 72 points in 110 games.

What He Does: Bateman describes his style as "old-time Canadian," which doesn't always mesh well with the light-contact leanings of college hockey. He'll get his elbows up in the corners, scrap for position in front of the net and, generally, level anyone with whom he comes in contact. Thus, all the time he spends in penalty boxes from Marquette to Oxford to Fairbanks. At 6-feet-1 and 200 pounds, Bateman often has his way in one-on-one battles.

The Bigger Picture: Northern Michigan slogged through the brutal first half of its schedule last season and, despite 11 NHL draft picks on its roster, never fully recovered. Bateman says inconsistency was the problem, and he also cites a need for better team cohesion. As the newly named team captain, he'll play a major role in shaping the Wildcats' intangibles this year. Aside from that, Bateman, for all of his aggressiveness, is a capable offensive player on the ice. He played on a line with big scorers Mike Santorelli and Darin Olver last season, and that forward trio will be critical for an NMU squad that must replace several top defensemen.
Bateman, who skates with a maniacal look on his face, on his status as a fan favorite at the Berry Events Center: "I guess I look mean out there, but I'm just having fun. It's my game face. I'm all business on the ice. One fan made me a T-shirt last year that said 'Pat Bateman will eat your babies' and it had a picture of me, a fork and a baby on it. That was pretty funny. (Nathan Oystrick) wore it to the bar one night."
— James Jahnke