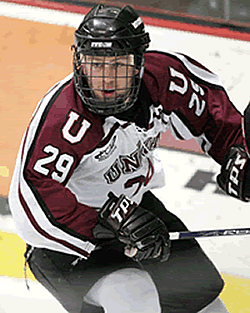 Bouchard has been a consistent but improving offensive weapon since arriving at Union. (Photo courtesy of Union Athletics)
---
Key Statistics: Bouchard was Union's leading scorer last season with 17 goals and 29 points in 36 games. He took over the scoring reign from Jordan Webb, who held that title for three years. Bouchard has increased his scoring total each season he's been on campus, up from 18 points as a freshman and 24 points as a sophomore.

What He Does: Bouchard has been a consistent point producer in his first three seasons for Union, and he can score from anywhere in the offensive zone. His perimeter shot is a strength, but he will also go to the front of the net.

The Bigger Picture: Union's scoring depth should be a team strength in the upcoming season especially with sophomores T.J. Fox and Josh Coyle returning to the lineup after serving suspensions. That means that Bouchard won't have to carry the scoring load for the Dutchmen and other teams won't be able to focus on him. Plus, Bouchard is a pre-med major and has already completed most of his most difficult courses. Some hockey and classroom burdens have been lifted, and Bouchard may respond with a breakout season.
Union head coach Nate Leaman on Bouchard: "He's got a really good release and he's a powerful guy. He's one of the few guys in our league that can score from outside the circles with his shot."
— Joe Gladziszewski