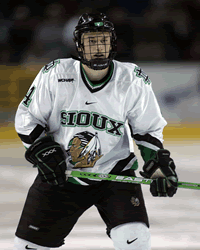 Chorney's 18 points ranked third among freshmen defensemen in the WCHA last season, trailing only teammate Brian Lee and Denver's Chris Butler.
---
Key Statistics: Chorney got used to seeing flashing red lights while he was on the ice as a freshman – the good kind – finishing a +22, which is best among North Dakota's returning players. As has become a team tradition in recent years, he saved his best hockey for March, notching an assist in five of the eight Fighting Sioux playoff games.

What He Does: Fans at Ralph Engelstad Arena have gotten used to hulking defensemen that look more like offensive linemen on skates, making Chorney's 6-0, 180-pound frame sound puny by comparison. But those measurements were taken before Chorney added close to 20 pounds of muscle via a grueling freshman year and off-season workout regimen, making a meeting with him in the rink's corner a risky proposition for any opponent.

The Bigger Picture: Spend a few minutes talking hockey with Chorney and two words are sure to pop into the conversation – "pipeline" and "legacy." He is one of the more recent entries in the long line of talented players to follow the recruiting pipeline between prep hockey at Shattuck-St. Mary's and college hockey at North Dakota. And he's one of three legacy members of the North Dakota roster, joining Ryan Duncan and Philippe Lamoureux as second-generation Fighting Sioux hockey players. Chorney's father, Marc, won the MacNaughton Cup in 1979 and the NCAA title in 1980, then played more than 200 NHL games with the Penguins and Kings. Having already won a U-18 gold medal, a WCHA playoff title and a trip to a Frozen Four, his father's accomplishments are next on the junior Chorney's "things to do" list.
North Dakota head coach Dave Hakstol on Chorney: "He played as significant a role as any of our freshmen and was a key player for us both five-on-five and in special teams situations. Physically, he has all of the elements he needs. He's very strong and had great mobility and balance. We expect him to elevate his game."
— Jess Myers