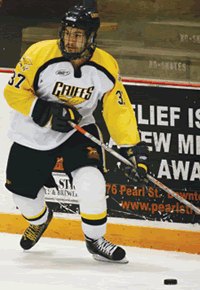 Coccimiglio was tied for second on the Golden Griffins in scoring with 20 points last season.
---
Key Statistics: Coccimiglio had a good freshman season with 10 goals and 17 points but his production tailed off a bit as a sophomore (4G, 8A). His junior season was a bounceback year as Coccimiglio finished second in team scoring with eight goals and 12 assists -- all but one assist coming in Atlantic Hockey play. He also produced four power-play goals, raising his career total to seven. A drop-off in production in the tail half of last season may be attributed to a shortcoming in conditioning, something coach Dave Smith does not expect to be a problem this season.

What He Does: Coccimiglio has the tools to become a dangerous scoring threat in Atlantic Hockey. Standing 6 foot and 190 pounds, physical strength makes him difficult to knock off the puck and tough in the corners. He shields the puck very well, making him perhaps Canisius' most dangerous player in the slot. He has a terrific shot and may be the team's best passer.
The Bigger Picture: Smith feels Coccimiglio (pronounced with a silent "G") has flown under the radar a bit and is counting on his rugged forward to have a breakout season, which is important as the Golden Griffins try to replace six graduates who accounted for 26 goals and 40 assists last season. Expect to see Coccimiglio on one of Canisius' top two lines and on the power play as well. Coccimiglio, a mature kid with a tremendous wit to him, is part of class of eight seniors who are being asked to put Canisius back on the right track.
Canisius head coach Dave Smith on Coccimiglio: "Joey provides a focus. He wants
to get better. He is a thinker. He analyzes everything after he thinks about it and then be buys in. It's neat to see that. The guys in the class behind him and even the classes ahead of him saw that Joe was committed.''
— Ken McMillan