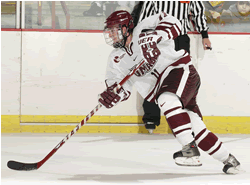 One of the fastest skaters in Hockey East, Davis scored nine goals and 18 points as a UMass freshman.
---
Key Statistics: Davis' nine goals were good for third on the Minutemen last year, and he returns as the top goal-scorer following the departures of Stephen Werner and Marvin Degon. His 18 points were the fifth-most in Amherst last season.

What He Does: Davis is a real burner. He was often the fastest player on the ice last season, and he found himself alone on the breakaway more and more as the year went on and he figured out how to really put his legs to use.
The Bigger Picture: As a freshman, he wasn't asked or expected to shoulder much of the offensive load. His emergence came as a pleasant and welcomed surprise, though. This season, things will be different. The Minutemen lost 23 goals and 56 points when Werner and Degon graduated, and Davis will have to avoid a sophomore slump and play like a true veteran if UMass is to have much of a contending chance in Hockey East. Coach Don Cahoon is known to mix up his lines quite a bit throughout the season, but the Minutemen's most productive trio would have Matt Anderson centering a line with Davis and Chris Capraro this fall.
Former UMass forward and current Washington Capitals prospect Stephen Werner on Davis: "He skates really well – that's his strength. He's very fast, and he's got a powerful stride. He's got some good moves, and he's been working on his shot. I expect he'll finish more of his chances this year. Everything is in place for him to have a big, breakout season."
— Jeff Howe