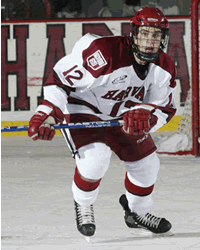 After scoring one goal in five games as a freshman, Paul Dufault scored eight goals and 26 points in 33 games for Harvard last year. (DSPics.com photo)
---
Key Statistics: Dufault emerged as a solid point producer last season with eight goals and 26 points in 33 games played. All of that followed a freshman year in which he had one goal in just five games.

What He Does: You won't be surprised to know that Kevin Du, Jon Pelle, and Dan Murphy were Harvard's three leading scorers one year ago, but even the most avid ECAC Hockey League fan would be hard pressed to remember that Dufault was fourth. He centered sophomore classmates Pelle and Dave Watters for much of the year and is a creative playmaker that can distribute the puck. Dufault was one of two players that shared the team's Most Improved Player award following the 2005-06 season.
The Bigger Picture: More impressive than Dufault's on-ice emergence as a second line center behind Du was how he handled reserve duty as a freshman. Even though he was out of the lineup most weekends, Dufault remained one of the Harvard's hardest workers and has improved his strength, quickness, and skating since being at Harvard. He and Du will give Harvard a strong 1-2 punch at center this season.
Harvard head coach Ted Donato on Dufault: "He is a role model for other players, and how we want them to handle adversity. He never complained and worked hard to earn everything he has."
— Joe Gladziszewski