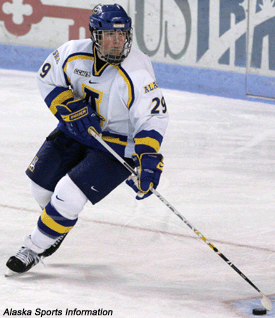 Head coach Tavis MacMillan has high expectations for Tyler Eckford in his sophomore season.
---
Key Statistics: As a freshman, Eckford finished second among Nanooks with 15 assists. His 18 points led the team's defensive corps.

What He Does: Last year was only Eckford's third season as a defenseman after being converted from forward while in the British Columbia Hockey League. His 6-foot-2, 220-pound frame looks imposing on paper, but Eckford is anything but a banger. He's a skilled defenseman with the hands of a forward, the eyes-up playmaking of an NHLer and the mind of a coach. In fact, when talking about Eckford, Alaska bench boss Tavis MacMillan brings up the player's hockey smarts just about every other sentence.
The Bigger Picture: With the early departure of blue liner Jordan Hendry to the Blackhawks, Eckford is in line for a ton of ice time this season. He'll quarterback the power play and is the team's first choice to lead the rush out of its own zone. Eckford needs to work on his defensive-zone play (as would be expected from a converted forward), but the Nanooks expect him to provide an offensive surge this season. Putting the puck in the net was a major issue for the team last winter, and MacMillan is certain that Eckford's repertoire should result in more than three goals per season. The New Jersey Devils think so, too. They drafted him in the seventh round in 2004, making him the only NHL draft pick on UAF's roster last season.
Alaska head coach Tavis MacMillan on Eckford: "His skill level and mind for the game is clearly much higher than many of his peers in college hockey. He still has plenty of room to grow physically, and when he does, he has the skill level to be an All-American. He should be an All-CCHA player this season, and with the way the NHL is now, that game is perfectly suited for a player like Tyler."
— James Jahnke