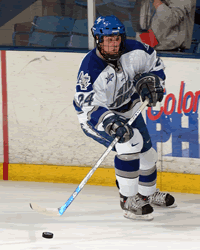 Ehn was a 2005 College Hockey American all-rookie selection and was named to the All-CHA second team last year.
---
Key Statistics: Ehn has stepped up his game nicely over two seasons at the Academy. He posted nine goals and 13 assists as a freshman and followed that with a sophomore season featuring 14 goals and 21 assists as a top-line center. Among Atlantic Hockey veterans, Ehn ranks fourth in career points (57) for all rising juniors, trailing only Ben Cottreau of Mercyhurst (85), Alex Parent of Sacred Heart (63) and Dale Reinhardt of Holy Cross (58).

What He Does: Ehn has good instincts, good hands and sees the ice well. He is not a speed-burner but he confounds defensemen with his east-west skating style and ability to shift speeds. He brings a high-level of skill to the offensive end, something the Air Force program has not seen a great deal of in recent seasons, coach Frank Serratore said. There's hardly a game where Ehn doesn't find his way onto the score sheet.
The Bigger Picture: Serratore always felt Ehn would become a collegiate all-star; he just had no idea it would come so soon. Ehn said there is pressure that comes with his all-star status but he says he is ready to prove himself once again. If there's any knock on his game, Ehn said he would like to have fewer "off nights" and be prepared to perform what is asked of him. Ehn will continue to anchor one of the Falcons' top lines, and is being counted on to become an active leader in the Air Force locker room.
Air Force head coach Frank Serratore on Ehn: "He's a real intellectual kind, a deep thinker. He is a very bright guy. When you talk to him about situations, he is always thinking about why we do this breakout tendency versus this team. With most guys you say, 'Here's what we're doing,' and they just do it. He thinks about it. If he doesn't agree he will come to you and talk about it and say, 'I see it this way.' He could coach someday. He doesn't just play the game, he thinks the game.''

— Ken McMillan