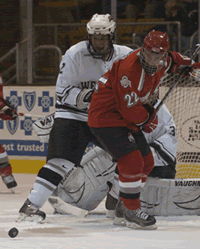 Frank's size comes in handy in clearing out the slot in front of the Broncos' net.
---
Key Statistics: Of Frank's numbers, one stands out because of its grandeur and one stands out because of its modesty. He amassed a monstrous 127 penalty minutes as a freshman, averaging nearly one and a half calls against him per game. All the while, he totaled just four points on two goals and two assists. But Frank the Tank, as he's hailed by the "Old School"-ish Lawson Lunatics, wasn't lured to Kalamazoo for his scoring touch.

What He Does: In a sentence, he punishes people. Frank is every bit the hitter that Michigan's Jack Johnson is, just without the offensive success. And while Johnson has developed a reputation as a nasty player, Frank plays a clean, physical game. He said he could count his elbowing and slashing penalties – i.e. malicious infractions – from last season on one hand. Where he gets in trouble is with holding and hooking in the whistle-happy CCHA. If you're wearing an opposing sweater, just remember that big No. 2 isn't trying to hurt you, but he is trying to hit you at all times.
The Bigger Picture: Entering his sophomore season, Frank wants to cut down on his penalties and improve upon his plus/minus number, which he considers his most important stat. Last year, it was an ugly minus-23 as Western Michigan as a team wallowed near the bottom of the conference standings. Frank, drafted this summer by the Phoenix Coyotes, has dropped 10 pounds since he stepped on campus, bringing him down to a svelte 230 pounds on his 6-foot-1 frame. He hopes that will help his quickness and agility, and allow him to stay in position more often. He also hopes that the Broncos can move up into the middle tier of the standings despite the loss of star forward Brent Walton.
Frank on his penchant for penalties: "A lot of the calls against me seem to come when I hit a guy, and maybe the ref sees it out of the corner of his eye and feels obligated to make a call because the guy is on the ice. The coaches have told me that if I get a penalty for hammering somebody under the chin, that's OK. If I can take advantage of a guy looking the other way on the ice, I'm going to do it. I play the body at every point I can."
— James Jahnke