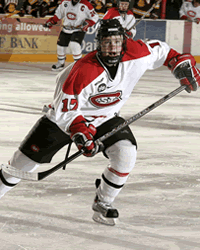 Andrew Gordon on last year's wild WCHA Final Five game against Minnesota: "We never thought we were going to lose, even though we weren't a team that you could ever imagine winning an 8-7 game. It was the most fun game I've ever played in."
---
Key Statistics: Enjoyed a breakthrough sophomore season, doubling his freshman output and leading the Huskies in goals (20) and points (40) in 42 games.

What He Does: Gordon says he does a lot of things pretty well, if not anything great. His model, then, is appropriate: Ryan Smyth of the Edmonton Oilers. Like Smyth, Gordon does his best work around the net, scoring most of his goals from the slot.
The Bigger Picture: Gordon was perhaps the WCHA's most anonymous leading scorer last year, playing on a relatively under-the-radar team where the bigger stories were the play of the first-year goalie (transfer Bobby Goepfert) and the work of the first-year coach (Bob Motzko). Gordon returns for his junior year having scored more points last season than all but four WCHA players, and none of them have his anonymity – Phil Kessel, T.J. Oshie, Ryan Dingle and Travis Morin. Expect the soft-spoken Nova Scotian to garner his share of headlines, especially if his team can fulfill his expectations, which include a return trip to the WCHA Final Five and a run at the NCAA Tournament.
Wisconsin captain Andrew Joudrey on Gordon: "I first started playing with him in midgets, and he was the youngest guy on our team. He was one of those guys who has the heart to play, and worked as hard as he could all the time. He has a great work ethic on and off the ice, and he is a team guy. He has improved every year. I played with him [again] in junior and [the difference] was night and day. He has worked so hard and he has deserved all he'll get."
— Nate Ewell