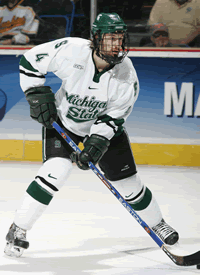 Graham will be one of the leaders of a defense that will include promising freshmen Michael Ratchuk and Ryan Turek.
---
Key Statistics: Numbers don't tell the story for Graham, who had just 12 points in 45 games last season and 10 goals and 27 assists in 127 career games.

What He Does: Graham is the quintessential defensive defenseman, and unlike some of those players – who hope a 40-point season is right around the corner – he takes pride in that designation. "I haven't scored 40 points since maybe I was 16," he said. "You have to embrace a label like 'defensive defenseman.' There are other guys who are going to score the goals."
The Bigger Picture: The Spartans know they can count on Graham's play in their zone. They'll lean even more on his intangibles, like leadership, in 2006-07. Some very talented freshmen and sophomores will wear the Green and White this winter, which means Michigan State will need strong upperclassmen in order to build upon last season's success. Graham will wear an 'A' this year – in fact, five Spartans will have a letter on their sweater, enough to ice an entire power-play unit. While there is strength in numbers, quality beats quantity when it comes to leadership, which makes Graham's off-the-ice contributions that much more significant.
Michigan State assistant coach Tom Newton on Graham: "The new game is right up his alley. He moves well, and his mobility can help him get out of trouble easily. He defends very well, and takes great pride in stopping the puck, making smart outlet passes, killing penalties and blocking shots."
— Nate Ewell